TourGuide
Hands-free transmitter and receiver.
The Tour Guide is a hands-free audiophone.

It is light, compact, sturdy and ergonomically-designed, and is used with a headset.
It can transmit up to 200 metres (this may vary depending on the environment).
One transmitter can transmit to an infinite number of receivers.
The transmitter has 15 or 30 channels with separate frequencies.
The conference and/or interpreter guide has a "hands-free" micro-transmitter.
The group of visitors can hear the guide speaking live quite clearly, without disturbing any other individual visitors and/or the occupants of the site.
The Tour Guide makes the tour comfortable for both visitors and the guide,
Other people on the site are not disturbed and guided tours on noisy sites are now possible.
The Tour Guide uses rechargeable batteries with a charging system.
Its digital screen allows you to control the sound volume and chosen channel and also check the battery status.
Either visitors or the guide can adjust the channel (using the infrared transmitter).
High sensitivity microphone
Built-in antenna
AA or other batteries
Digital screen
Battery indicator
EU standards.
Range of up to 200 metres.
Socket for external source
Technical specifications:
Dim.: 168x 42x 25 mm
Weight : 144g
Charging case:
5-year guarantee
Can be used both indoors and outdoors
Ergonomic design
High sound quality
15 or 30 channels
Unlimited number of receivers for each transmitter
Range: up to 200 metres
Digital screen
AA or other batteries
Battery life: 35 hours
Can be personalised (four-colour printing)
Technical specifications:
Dim.: 138 x 42x 25 mm
Weight : 78g
Accessories :
External headset (approx. 15 g)
Microphone headset
Charging case for from 20 to 220 receivers and transmitters
Carry case
Transportation bag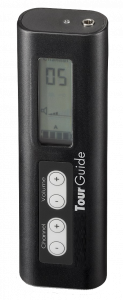 The Tour Guide is perfect for the following:
City Tours
Groups with guides
Simultaneous translation
Press conferences
Ask for a quote